The Coastal Explorers Field School is a work-in-progress. Starting in 2021, we have been prototyping and field-testing a suite of citizen science projects for enhancing high school science education in collaboration with educators in the province of Newfoundland and Labrador. These citizen science projects offer high school science teachers an exciting new resource for complementing their science teaching with out-of-classroom field experiences for their students.
The Coastal Explorers Field School program aims to develop core competencies such as data and digital literacy, collaboration, communication, creativity, critical thinking, citizenship, character, as well as career awareness, through active student engagement in coastal monitoring projects.
Partner Schools and Field Sites
Pending confirmation of multi-year funding, the Coastal Explorers Field School Program is slated to run from 2021 to 2024. A group of teachers from 15 schools are testing the materials and implementing the program with their students during the Fall and Spring field seasons. The first cohort of teachers participated in a three-day institute in Terra Nova National Park in August 2021, followed by field excursions with their students from September to November 2021.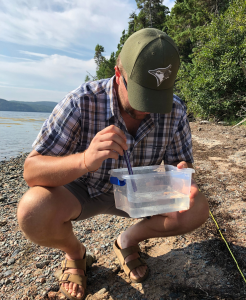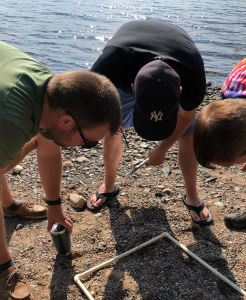 Ocean-STEM Experiential Learning Framework
To guide the design, implementation and evaluation of the Coastal Explorers Field School program, a conceptual framework was developed with a view to identifying best practices in experiential learning. The Ocean-STEM Experiential Learning Framework outlines a series of five learning progressions, from Undeveloped/Limited Evidence to Proficient/Exemplary. Each of the key elements are interrelated and describe specific touchstones that mark the progression towards integration of experiential, field-based activities about the ocean into science teaching.
The first iteration of the Framework was field-tested in the Fall 2021 and a baseline established based on interviews with the first cohort of 15 teachers who participated in the initial training. Participating teachers are invited to contribute actively to the research to ensure the findings are based on and informed by teaching practice.
Feedback from the teachers interviewed provided valuable information and insights into the merits of the Framework as well as support and impediments to implementation.
Teacher Feedback
All of the teachers participating in the research study were interested in pursuing the initiative in the next school year, citing the enthusiasm of their students and the opportunity for professional renewal. Following are just a few of their comments:
"The kids really enjoyed it…They were all engaged. Everyone was partaking in some aspect of it. And when they passed in their reports, everyone did exceptionally well. In the old school system, you feel there's always someone who lacks or there's something missing. I didn't feel that was the case at all. Everyone enjoyed it and was engaged. It's a phenomenal program and definitely something that should be done in every school."
"Seeing it and doing it myself as a teacher gives me a fresh perspective on how to approach my science this year. Engaging students is getting harder and harder. No matter what we do, we've got to be creative around that… By bringing in learning that is hands-on you're in the moment doing it, living it, and you're invested because it's local and it's a lot more meaningful…"
"Some kids would struggle doing a paper and pencil lab or assessment. When you take them out into the field and they're using a hydrometer, and talking about temperature because they're physically doing it, and they can tell me what a biotic factor is versus an abiotic factor … they're able to shine in those moments, and you're seeing the learning happening for them."